CUSTOM BOARD GAME KITS
MADE FOR Terraforming Mars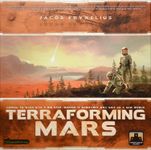 How many card sleeves do I need for Terraforming Mars?
Terraforming Mars has 233 cards that are sized 63.5 x 88mm.
Published by FryxGames, Stronghold Games in 2016
GAME NIGHT MADE EASY
NO MORE GUESSING
Say good bye to sleeves that don't fit.
CORRECT SIZE & QUANTITY
Exactly what you need, plus a few spares.
NO GIMMICKY PRICING
Our sleeves cost the same in packs & kits.
REINFORCED EDGES
NO MORE SPLITS
Stronger seal to prevent splits & rips
TEXTURED MATTE BACK
EFFORTLESS SHUFFLE
Micro-dots reduce friction for a smoother shuffle
stunning foils
CRYSTAL CLEAR FRONT
Full protection without compromise
RELIABLE GRIP
TEXTURED MATTE BACK
Dependable grip for any situation
Archive-Grade
NO PVC or ACID
Archive-grade materials that perserve your cards
REVIEWS
Glad we switched

I've used these for my new games Dune: Imperium, Bang! The Dice Game, and Jaipur. I'm loving them.

Jeremy M
Love, Love, Love it!

We've been using Ryker for all our new games. Fits like a glove for all different sizes.

Jamie K.
They make it easy

We had some questions about card counts for Nemesis Lockdown from Kickstarter. They just really make it easy.

Cory S.
Awesome sauce

Love these guys! They actually give a sh#t about the stuff they make. What else do you need.

Graeme M.
Impressed

Very impressed. The texture has a nice feel and they shuffle really well. I'll be buying more.

Timothy W.
Texture Feels Great

I really like the way these card sleeves feel. It makes your cards feel a bit more classy.

Vicky R.
Just get them

I've tried so many different card sleeves in my lifetime. This one is a winner.

Griffin T.
Great for Holos

I love how my holos looks in these. They are extra sparkly and also protected

Caitlin C.
REINFORCEMENTS ARE STANDING BY
Get premium protection for Terraforming Mars
Ships in 1-2 business days